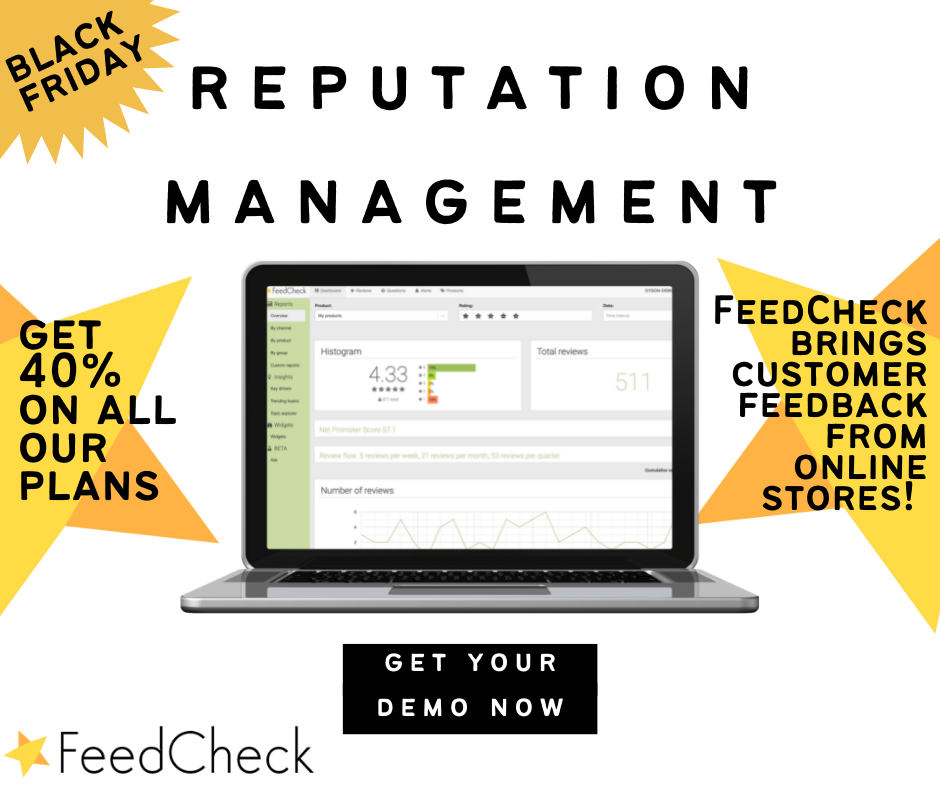 What a thrilling season it is! Winter is ready to start and do what it does best as December is just around the corner. However, November is a great month to start getting ready for the Holiday season. Because it's quieter and calmer and because Black Friday features the best sales of the year, November is a better month to run your errands. Now that Black Friday signs are everywhere in November, it is a great time to make a huge announcement. The good news is that FeedCheck is offering discounted pricing on all of our subscription options for the first time ever! And we are very thrilled to share this news.
To make our plans more available to everyone, FeedCheck has made the decision to board the Black Friday train. We discuss the significance of customer feedback and observe organizations executing effective marketing strategies. But what if you broadened your marketing tactics and dug deeply into your customer reviews, testimonials, and feedback? The concept of being too late does not exist. You understand that any new project requires time, effort, and labour because you work in the industry. Never say never, though. These are the customers who spread the word about your brand, support you, and uphold its reputation. So why not begin gradually and let me explain our goals to you and how they can benefit you?
Our plans get 20% monthly and 40% yearly
Lite
For anyone who wishes to begin review monitoring, our light plan is ideal. This package contains one channel with up to 29 products, like Amazon or Best Buy. This can include your own items, those of your rivals, and products that come in various versions. This package is excellent since it offers Product Review & Rating Widgets in addition to all of the review aggregation and analytics tools with an unlimited number of users. Use that account and spread the word about it! Be sure to go here for more information.
Get our Lite plan for only $47 per month on a yearly subscription!
Enterprise
For medium-sized businesses looking to monitor up to 330 goods, our Enterprise plan is fantastic. You can import review data from Excel or other sources with this enhanced plan in addition to using all the capabilities of the Lite plan.
Starting at a discounted rate of $198 per month for a yearlong plan!
Customized
Our customized plan, which enables numerous connectors including Zendesk, Twilio (get notifications directly to your phone through SMS), Slack, and many more, is currently the most complex. The beautiful thing about this plan is that you can decide how many channels, items, and competitors you want, and we'll use a formula to determine the ultimate cost. Contact us if you have any questions or need more information.
Additionally, this plan offers 20% off of monthly subscriptions and 40% off of annual subscriptions!
Service businesses
Does the above plan not apply to your business? We have a pricing area with a special discount just for you, so don't worry. Look at it here. We are offering a special rate of $23 per location if you want to track customer reviews that are coming in from one of your restaurant locations. This plan includes keeping an eye on customer reviews for both the business's own locations and those of its competitors in all relevant web listings like Google, TripAdvisor, Yelp, etc. FeedCheck provides alerts and cutting-edge statistics to assist you in making the best decision as soon as possible.
Make sure to get FeedCheck to monitor your reviews this November and December as our special sale ends on 31st December 2022.

Not sure where to start from?
Catch up on our blog posts and start learning how to monitor customer reviews and how they can improve your sales and online reputation. FeedCheck is an all-in-one platform that offers many solutions.