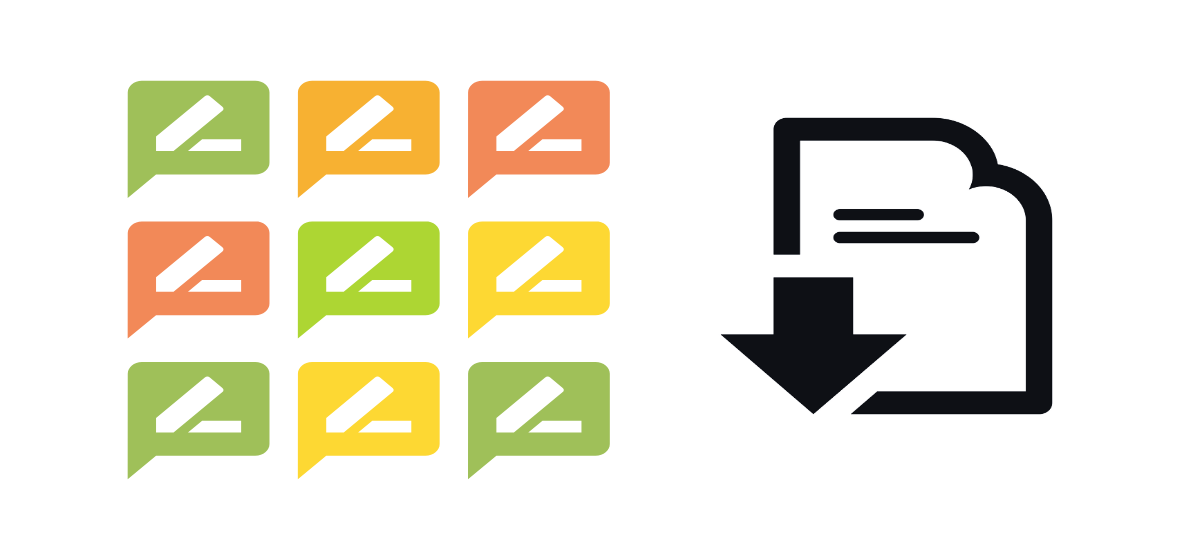 If you're either a Seller on Amazon, a Manufacturer whose products are being sold on Amazon by 3rd party sellers, a Data Scientist or a Researcher who needs to work with product review data in your company's internal systems, then you're at the right place.
With our tools and services, you can get your product reviews in CSV format in two simple ways, whichever suits you best.
You might find yourself in one of the following two situations:
1)  Your need for downloading Amazon product reviews is sporadic

If you need to download this data now and then, or even only one time, for punctual data analysis, then our Amazon Review Exporter is the right and fastest service for you!
For example, you might need to find out:
*how often particular product features are mentioned in your product reviews
*how complex are the most recent negative reviews if you know you made recent changes to your product
*or you simply want to read all your reviews and analyze them manually.
This is how it works:
2. Enter your Amazon product link as shown below: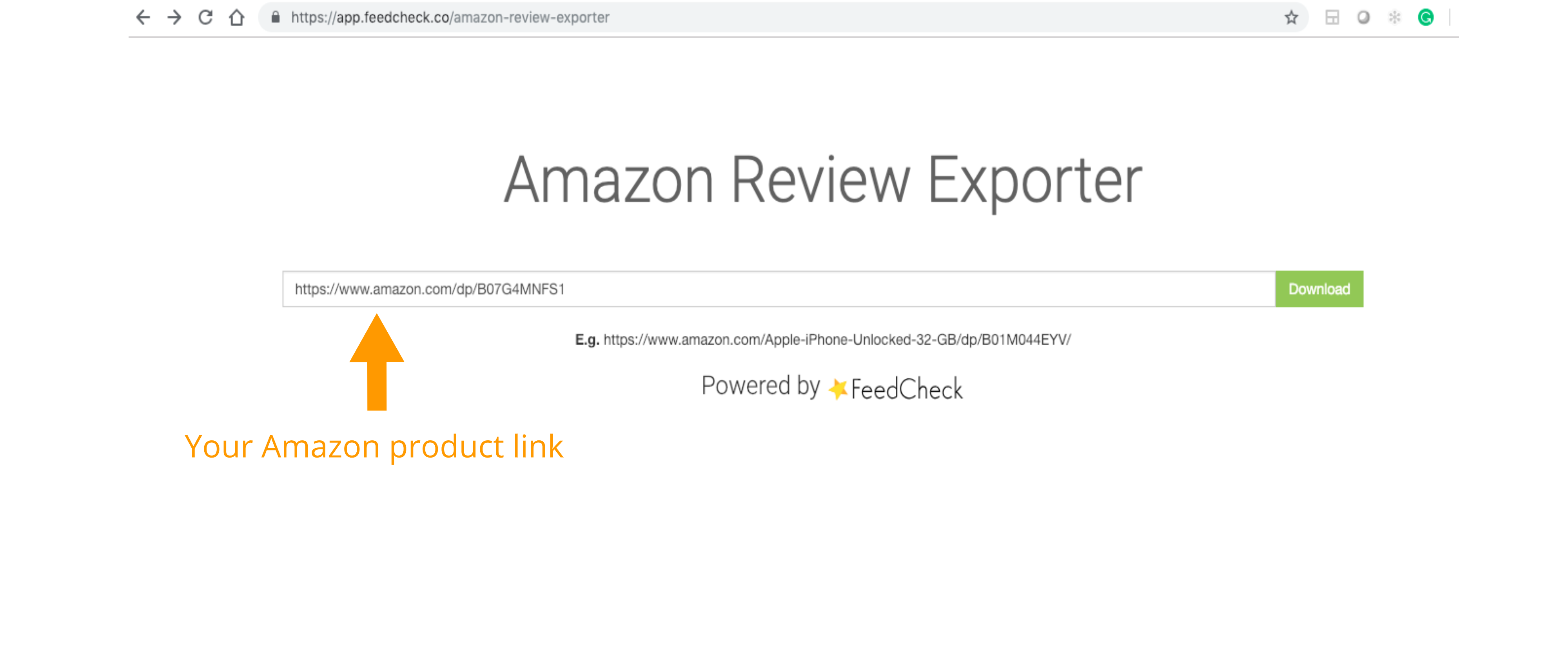 The product link looks exactly the same on Amazon: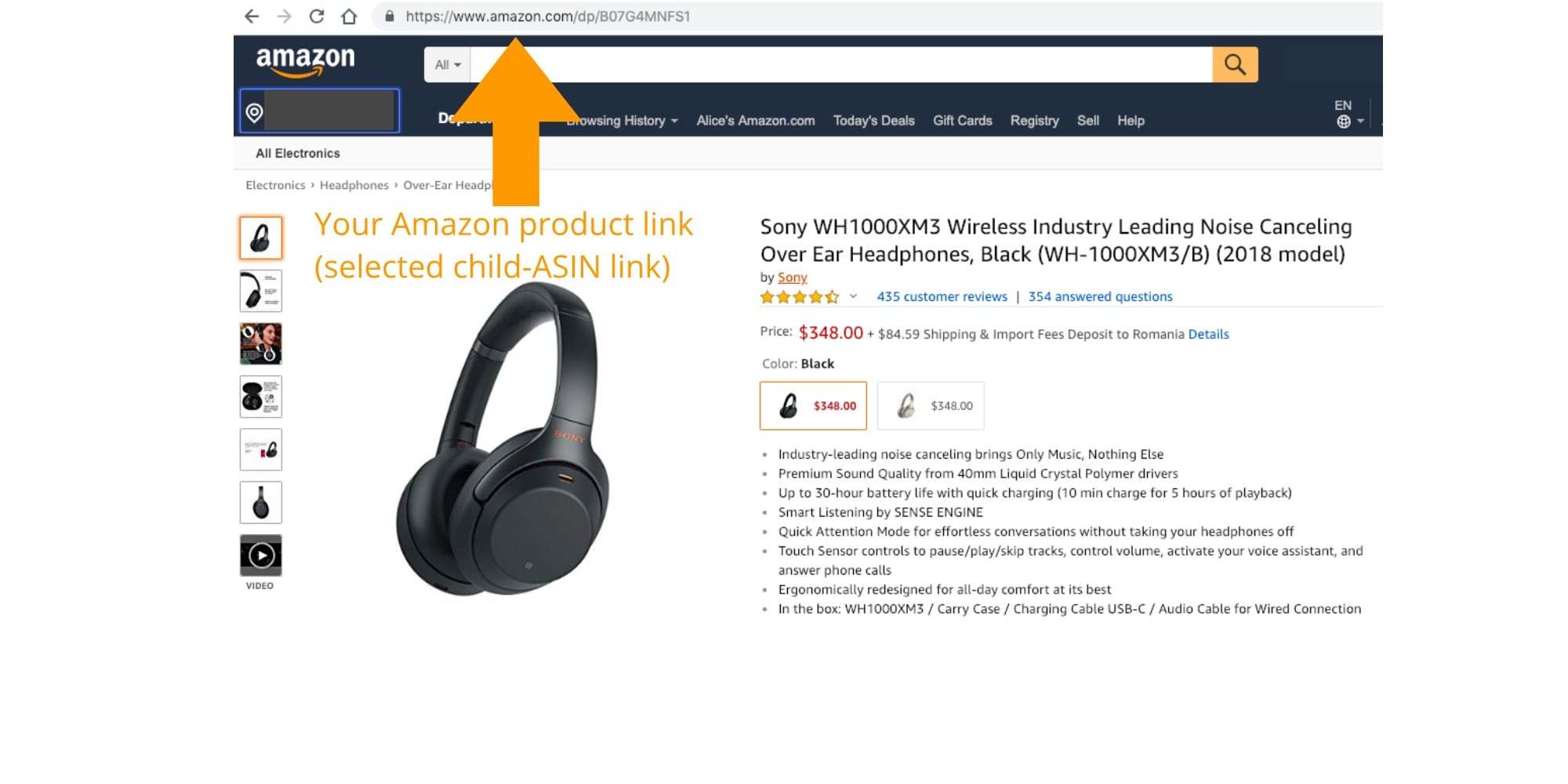 By 'product link', we mean one of the child-ASIN links, as above highlighted: https://www.amazon.com/dp/B07G4MNFS1.

Do not worry! Amazon Review Exporter will deliver the reviews aggregated for all child-ASINs of a parent product, regardless of how few or many variants it has (e.g. sizes, colors etc.).

3. Press the "Download" button
Now, Amazon Review Exporter will show you a Preview of your most recent product reviews organized in a table. This way, you can see exactly what data you'll get:
* review rank
* title
* review content
* author (reviewer's name)
* reviewer's status: real customer or not
* publishing date on Amazon
* product link behind the review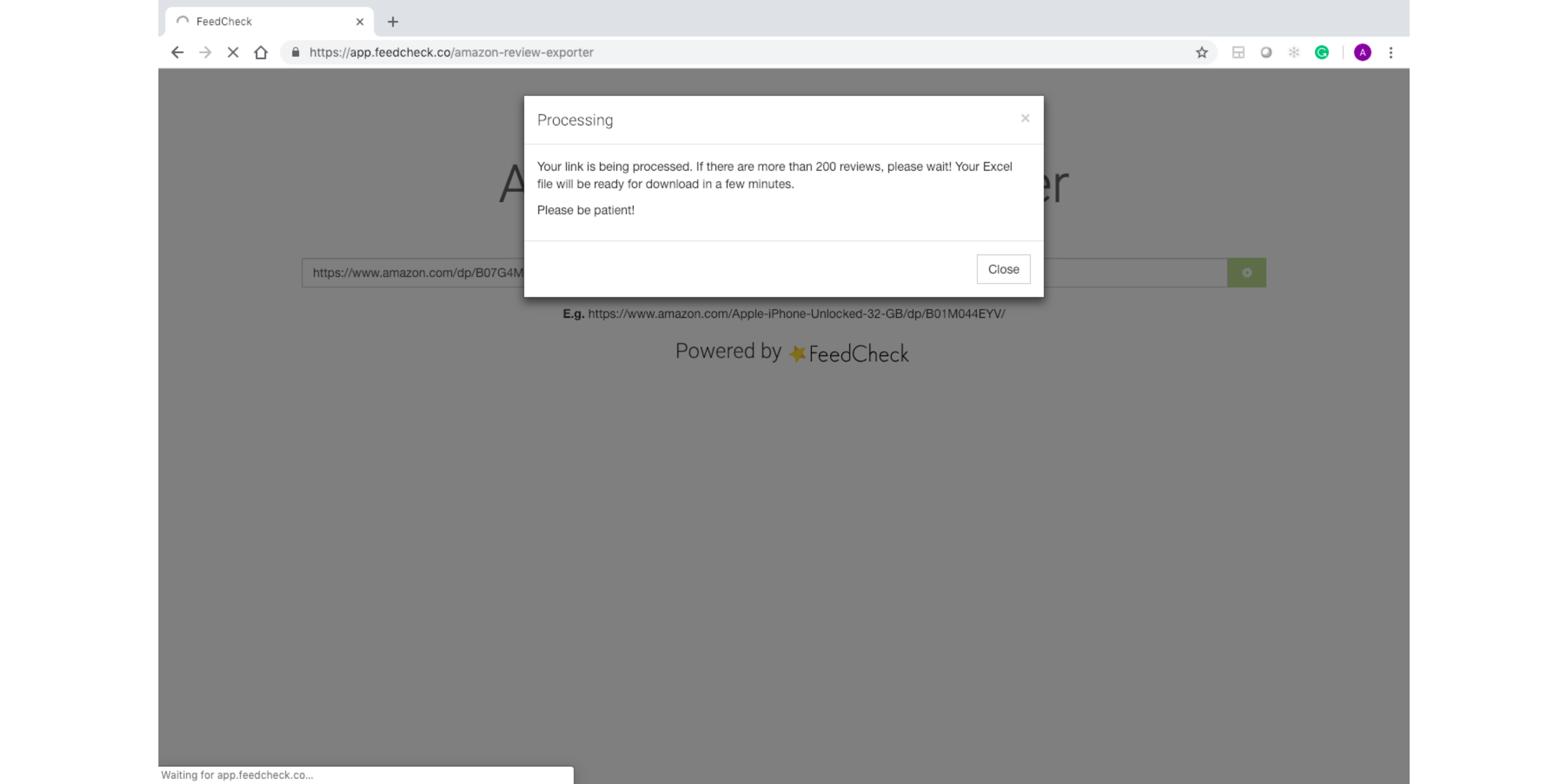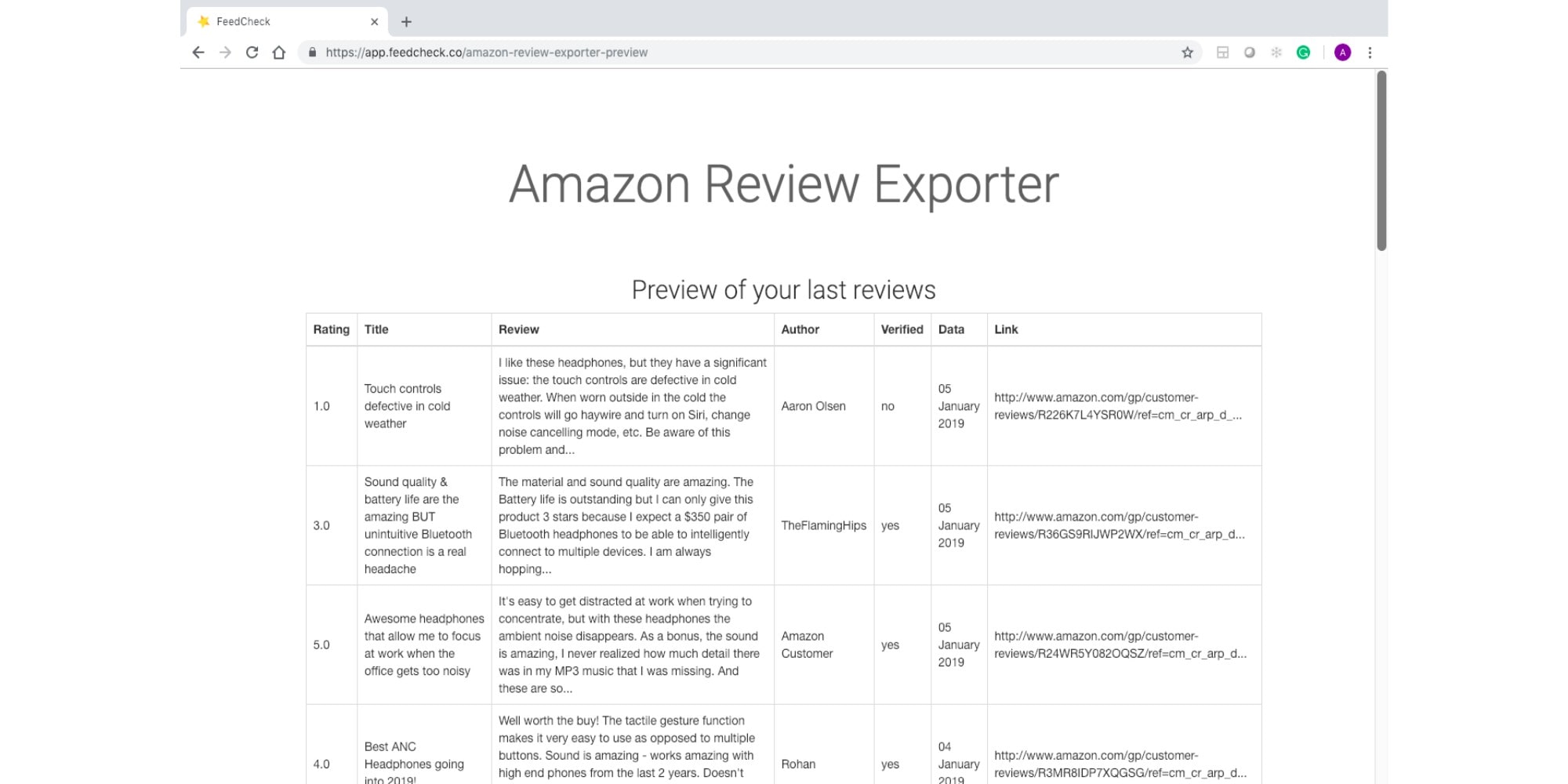 4. Pay-as-you-download your product reviews
At this point, you can follow with the last step and purchase the CSV review file. After the 'Buy now' and entering your payment details, please be patient while the Amazon Review Exporter is collecting all your product reviews and putting them into the CSV file that you'll download once it's ready. This operation might take a few minutes depending on the number of reviews that need to be aggregated and the number of child-ASINs behind.
The Amazon Review Exporter is the right service for you if:
you have a few products that you need to download reviews for

you need this type of data rarely, for one-time projects
In case you conduct research projects for which you need reviews of a significant number of products, please get in touch for a personalized offer.
2)  Your need for downloading product reviews is recurring and for a (relatively) fixed group of products
This means that product reviews are a key data set in your work. In that case, by aggregating and monitoring reviews on an on-going basis, you will find the Excel download handy at any moment in time. Here, FeedCheck is the tool that helps you best:
Once you know which products you need reviews for and have them set up in FeedCheck, you can download your products' past reviews to CSV/Excel, as shown below:
The range of data exported is a little bit richer than the one provided by the Amazon Review Exporter and it can also be filtered according to your needs before downloading it to CSV/Excel.
Thus, your Excel file can contain reviews of specific star ratings, selected products of yours or your competitors, from selected marketplaces and so on.
Does the CSV/Excel export work only for the Amazon marketplaces?
While, as the name says, the Amazon Review Exporter works exclusively for the Amazon marketplaces, FeedCheck review monitoring platform can support any eCommerce platform in the world. That means that you can download your product reviews to Excel from any marketplace or online store that you can think of. Here is a list of supported web-stores which keeps growing.
Whichever your situation is, following the above steps you can easily download your product reviews either occasionally, when your projects require it, or you can benefit of a constant monthly service that allows you the flexibility of downloading exactly the product reviews that you need.