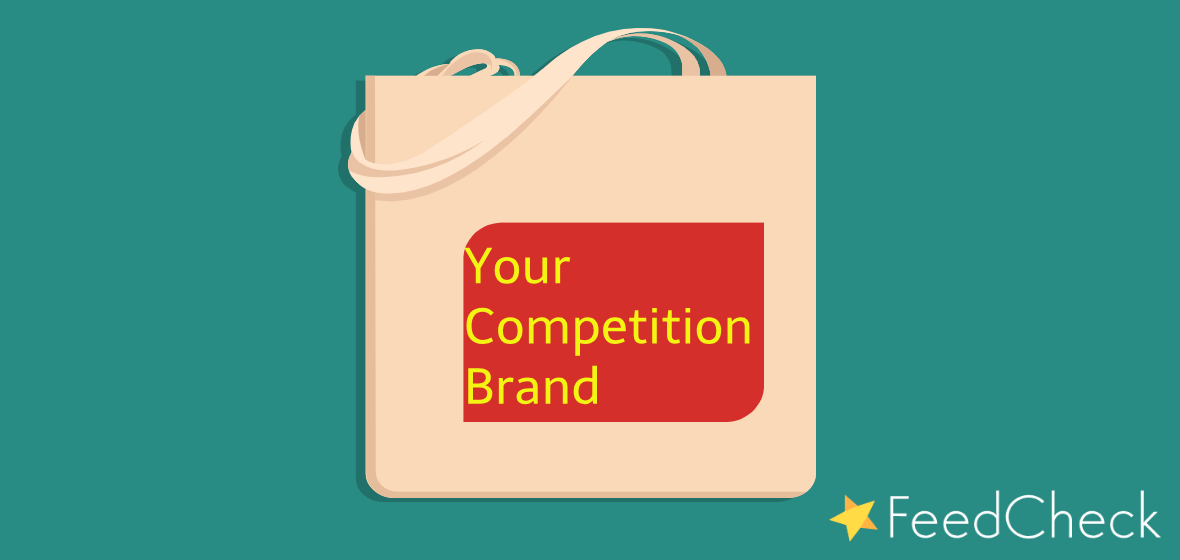 With the increased speed at which product reviews are being generated in online stores today, they have become the fastest means by which consumer goods companies can listen to their customers' feedback. Any other known market research approach has been losing ground to sharp product experiences shared publicly, right in stores, by real customers who purchased products and already tested them on repeated occasions.
How reliable are social media comments if there's no trace of whether the commentators have actually purchased and used those products? And even if they're still useful, why would brands prioritize social media comments instead of real customer feedback received at the point of sale?
Or how effective is traditional market research done on a limited pool of consumers, one project at a time, often involving the very same consumers selected by the research agencies?
Product reviews are flowing in stores on an on-going basis from a variety of customers, many of them having tested competitor products before. Every new sale can anytime be followed by a product review and consumer goods companies should not be taken by surprise anymore if they see their products openly scrutinized next to their competitors'. Product size, weight, physical component or software defects, customer experience, support, price, packaging, delivery and many other features are described by consumers in details.  They share what disappointed them at your products and why a competitor product exceeded their expectations and vice versa.
Product reviews are the most relevant learning material for brands generated in this new insights abundant place – the online stores. There's where brands can find out why customers might never return and buy from them again in the future, thus impacting potential new customers who, based on product reviews, decide on purchasing a competitor product.
Every negative product review – and here I don't refer only at the star ratings but the actual product review content – counts in how many potential customers leave your product page and go for competitor products. Same way as every positive review counts in how many people stay on your product page deciding eventually to add your product to their cart.
But how can brands make sense of so much review content spread across many products, their own and competitors', on multiple stores?
Product review text analysis is the solution.
Regardless of the star rating given by customers to your or competitor products, product review text analysis goes beyond this metric. It digs deep into the product review content and measures the sentiment of different keywords that define best your product specific feature or a certain topic that you need to evaluate and that is referred by customers in their product reviews.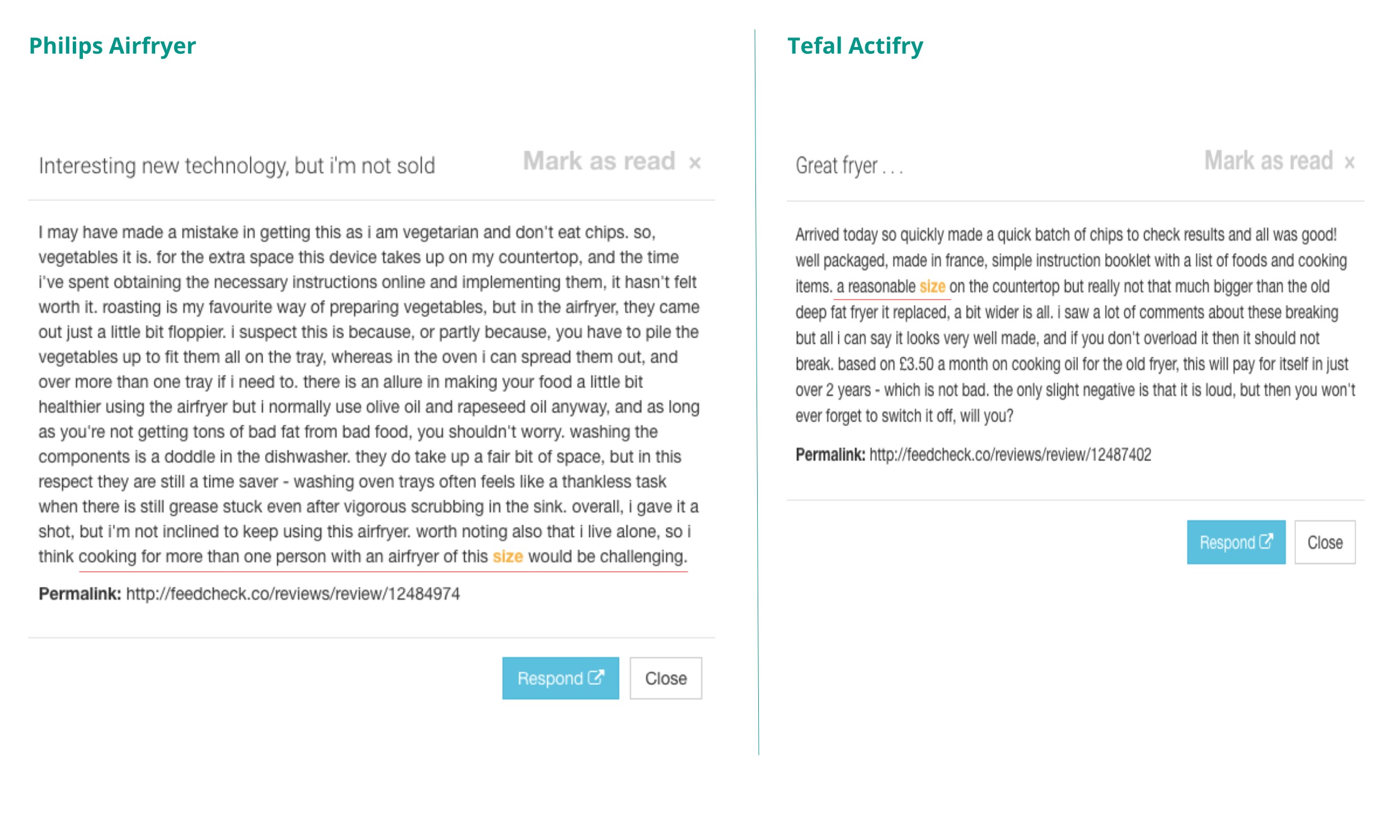 A product feature sentiment analysis can be done by comparing two or more competing products on a specific timeframe such as a week, month, year or any custom time period. Brands can also monitor how sentiment trend is evolving over time especially when improvement actions had been taken based on previous findings.
Below is the two competitor airfryers, Philips and Tefal, feature sentiment analysis based on their Amazon customers' product reviews: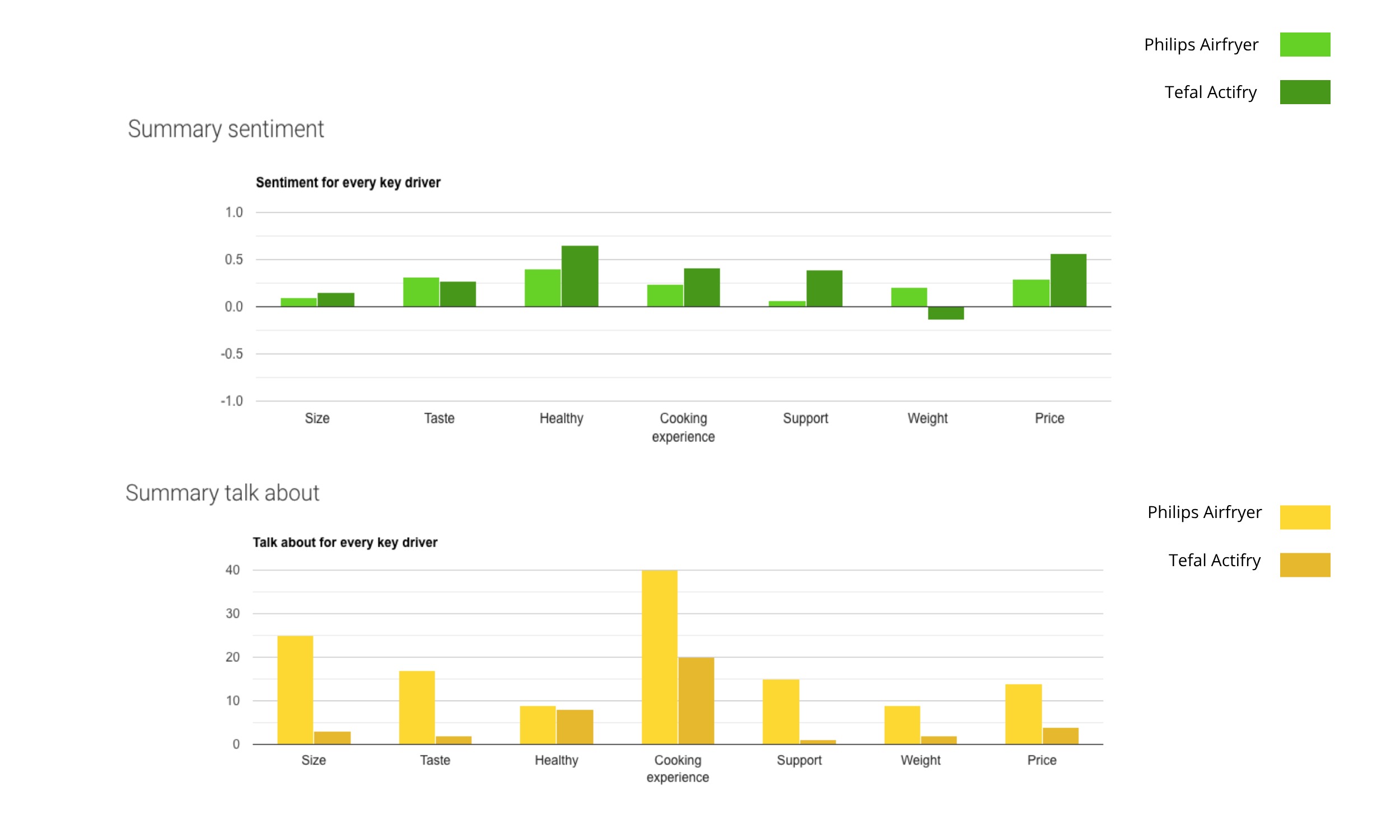 With more customers discussing in their product reviews about the size of the Philips Airfryer and less discussing about the size of the Tefal Airfryer, we have discovered that the "size" sentiment of the Tefal customers is slightly better than Philips'. A few rows above we could have also read a concrete example of two product reviews highlighting how customers perceived the "size" of the two competitor airfryers.
How Brands Can Capture the Sentiment from Their Product Reviews
For sure this is not a one-time action but a continuous process that tells brands about their product capabilities performance based on their customers' experiences shared in their product reviews.
A one-time action would be entirely based on past product reviews  – which is still good for understanding what product improvements should be considered. But after that, if the customer sentiment stops being measured, there is no way to find out whether the improvements have been well received by customers and to what extent. On top of that, customer sentiment on a particular product feature is discovered by potential customers when they read reviews. For that matter, the latest reviews across all star ratings are the ones customers will check first.
There are several steps brands can take in order to stay informed on their customer sentiment:
Step 1: Choose your own and competitor products
Select the products, your own and competitor ones, that you want to measure the sentiment for across the relevant product features spectrum.
Step 2: Choose marketplaces and online stores
Select the marketplaces and online stores where your and competitor products receive reviews from customers.
Step 3: On-board to FeedCheck and start your product review monitoring
Add all these products to FeedCheck, get the entire aggregated product review history and start receiving new product reviews every day.
Step 4: Define the key product features
Define the key product features you want to measure the customer sentiment for and relevant word references for them (aka keywords).
Step 5: Access customer sentiment data
Get instant access to the customer sentiment data for each product feature and see how that is changing over time.
With FeedCheck product review aggregation and monitoring tool, brands can also search in their product reviews and discover the actual context in which customers have described their experience regarding the respective product features.
Our live demo can show you at any time how the customer sentiment looks like for different smartphone products specific features.
If you want to get your own customer sentiment, let us know which products and stores you would like FeedCheck to monitor for you.