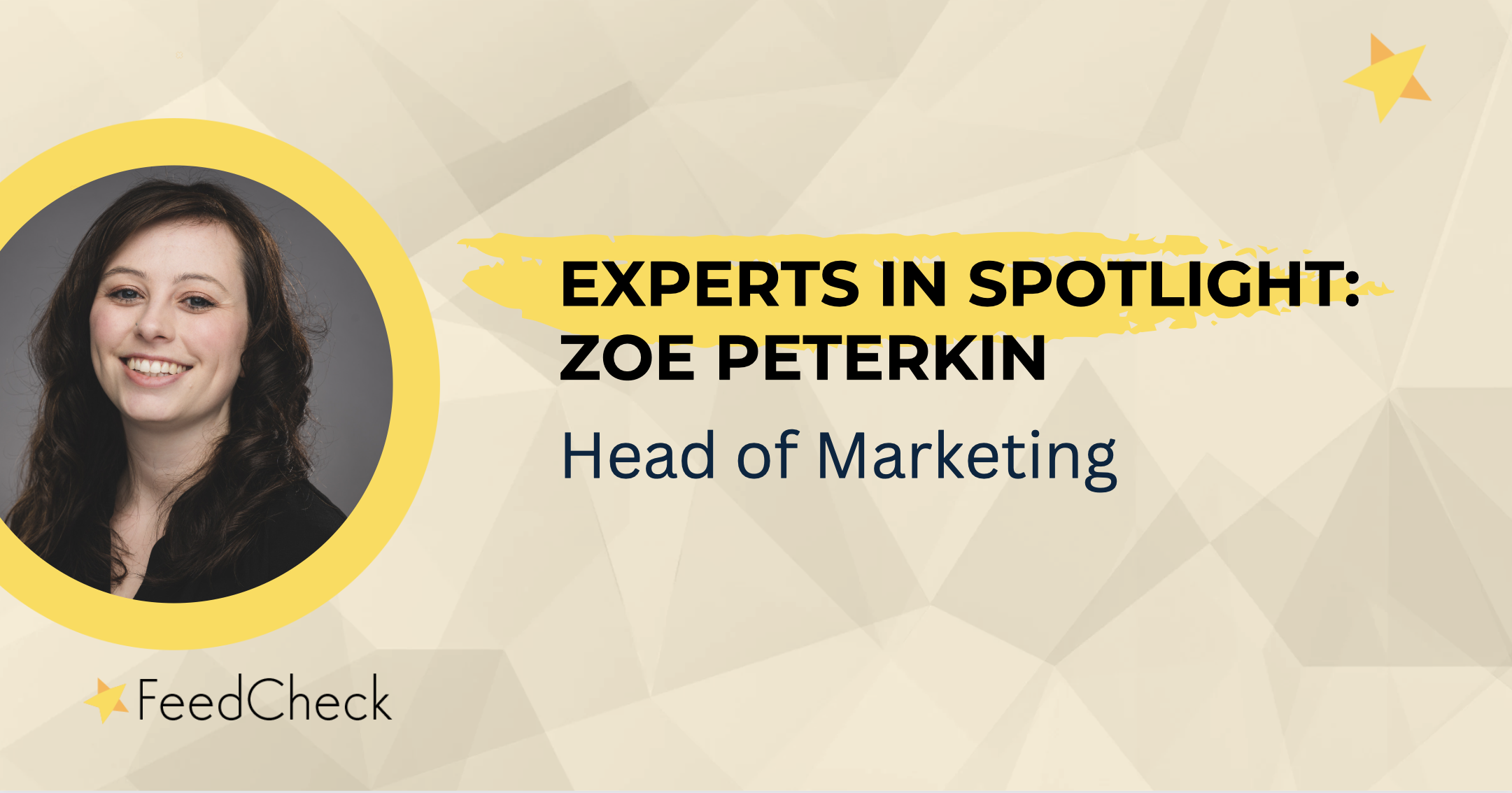 More experts who are eager to share their knowledge and skills will be featured in our ongoing series Experts in Spotlight. Never stop asking questions, as Zoe Peterkin says in her interview. So we're here to ask questions, stay curious, and learn valuable information from someone who has attained the position of Head of Marketing. Let's see what she has prepared for us in the following interview with FeedCheck.
Introduce yourself and tell us about your current position and about the company you are working for.
Hi! I'm Zoe Peterkin and I am Head of Marketing at Summize.
I joined Summize in February 2020 as Marketing Manager, before I was promoted to Head of Marketing in January 2021. I have maintained that position as we've grown over the past two years.
Currently, I manage the day-to-day operations, management, and strategy of Summize's Marketing Department. I am also responsible for the organisation's SEO and website, as well as the business' marketing analytics and reporting.
What does Summize do? Well, Summize is the world's first Integrated Contract Lifecycle Management (CLM) solution, meaning it uses familiar tools such as Microsoft Teams and Slack as its user interface for internal business interactions with legal contracts. This makes processes smarter, faster and more productive. It's digital contracting, done differently.
What's your backstory and how did you get where you are today?
I didn't originally plan to go into marketing! I obtained my undergraduate degree in Zoology of all things, before going into a Development Team for a market research company. I moved into project management and eventually content marketing and site management, which is where I found my passion. I've been in marketing ever since.
I have always worked in either the science or tech industry and really enjoy how fast-paced the sectors are. There is always something new and exciting happening! Working for smaller companies, particularly startups, is also something I really enjoy due to the experiences and opportunities you're exposed to. You can get involved in every aspect of the business and aren't siloed into one type of task.
I also learnt quite quickly that I preferred in-house marketing, despite having also worked in agencies. I found that being in-house allows you to get involved in all aspects of the industry. You can get your teeth stuck into more long-term projects and really get a sense of satisfaction when you watch the results come in.
The 'aha' moment came for me when I joined Summize. I suddenly found that no matter how difficult some days could be, I was excited to come in and I haven't ever lost that drive. I'm incredibly passionate about my team and my work there.
Have you learned anything particularly helpful or advantageous?
In terms of things I've learnt – firstly, I have always been particularly bad at asking for help. I used to feel a need to prove myself, especially in industries that were predominately made up of men, and I felt that by doing it all myself, I was doing that. However, I've definitely learnt that by not asking for help, it actually makes you look weaker. By getting help or even just talking something through, you will often end up with a better solution than you started with.
I've made plenty of mistakes (who hasn't!). But I would say the biggest one was that I spent a large chunk of my career focusing on salary and bonuses, which meant I stayed longer than I should have in a job where I wasn't happy; purely because the salary was good. However, those mistakes have led me to where I am now, so it's not all bad!
One final learning that I've taken away from my career is that I'm very emotionally invested in my work. If I am unhappy at work, it radiates into aspects of my personal life. So, I've that learnt you should always aim to work somewhere that makes you happy, builds you up and ultimately is somewhere you want to be every day, and that's not always the place with the largest salary.
My biggest piece of advice? Learn from others, get a mentor, and never stop asking questions.
What platform/tools do you use in your daily marketing tasks?
My three favourite tools are Hubspot, Microsoft Teams, and, seems basic, but Excel. I use them every single day without a doubt. But I'm also addicted to SEMRush.
Hubspot provides a great snapshot into your company's performance. It allows you to track objectives and implement marketing automation, ultimately making your life easier! It's very user-friendly and keeps all my data in one place. I spend a huge chunk of my time on their platform, and I really enjoy using it.
I also love Microsoft Word's task board functionality as it allows my team to easily track their workload in one place. It also helps me monitor our priorities as a department and work more effectively. Teams is also a fantastic way to keep in touch with all your colleagues.
And then in terms of SEMRush, it's a fantastic tool for content and SEO. It's so satisfying to watch your keyword rankings improve and allows you to immediately see when there are issues on your website.
What have been the most influential books, podcasts, or other resources? Tell us your favourite quote of all time!
I tend to find that I learn best from actually doing a task, or from reading articles. I'm a bit old-school and really struggle with YouTube tutorials.
Neil Patel's site is something I use regularly and it has loads of great marketing and SEO tools. I would also recommend HubSpot Academy and Google Digital Garage as well if you're looking for some useful marketing courses.
Could you give us an example of a marketing initiative you worked on that was especially successful?
After attending several legal technology events, I identified the need for a different approach. This was especially important as since COVID-19, many people were experiencing online demo fatigue, and I wanted to demonstrate that we were an innovative, disruptive brand to a market who didn't know much about us.
To combat this problem and create a more disruptive brand, I came up with the concept of Tech Play Day. It's an interactive event that lets in-house lawyers get hands-on with the latest tech in person while providing a space for tech vendors to showcase their latest innovations. It generated significant social media engagement across both the Manchester and London events.
Tech Play Day provided Summize with significant brand recognition and a sizeable, six-figure pipeline. Radius Payment Solutions attended the first Manchester event and later became a Summize customer, cutting our average sales cycle in half. The ROI stands at 250%, attracting over 50 senior legal professionals and six vendors at the last event.
What is the best part of your job?
It's easily my team and the people I get to work with. Everyone at Summize is incredibly driven and we learn a lot from each other. When we take a break from work, we can also have a lot of fun together.
Another thing I really enjoy is how many things I've gotten to try and experience. No two days are ever the same, and I've gained a lot of knowledge in areas that I would never have had exposure to in a larger company.
I also love the fact it is so fast-paced. Summize is a rapidly growing scale-up, so it can feel like a bit of a rollercoaster! It's not for everyone, but I personally really enjoy it and get a lot of satisfaction out of every project I complete.
How do you maintain a work-life balance?
I don't think I do any of the things you are 'supposed to do' to maintain a work-life balance and I often struggle with feeling like I shouldn't enjoy my job as much as I do. But it's a huge part of my life and I'm happy about that.
When I do take some time out from work, I like to go out to eat (I'm a massive foodie) or to the theatre. I also LOVE going to concerts and festivals – I am very into my music. And then I like to read, listen to podcasts, and play video games, which I find help me unwind.
On top of that, I try to make sure I regularly make plans with friends and family. I also love to travel, so I usually have a couple of holidays booked throughout the year.
What is the best advice someone ever gave you?
I think the best advice I've ever been given was when I was younger and I had no idea what I wanted to do for a career. They simply told me that I didn't need to have it all worked out, to follow my interests, and to not panic if I got it wrong – very few people know what they want to be when they're a teenager or even in their 20's and beyond! And that's definitely a mantra I've followed to get to where I am now.
It sounds cliche but my parents regularly inspire me. They have worked incredibly hard to give both themselves and me a fantastic life, and I know I have taken that will to succeed from them.
In terms of someone who inspires me from a business perspective, it would probably be Whitney Wolfe Herd, the Founder of Bumble. She has an amazing story around getting to where she is and it's always inspiring to see such a successful female leader within the tech sector.