Experts in spotlight is a FeedCheck interview series in which we ask industry professionals questions that can help you and your business to become better. The concept of sharing knowledge, abilities, and guidance and making them available to everyone inspired this project.
As businesses develop and become more digital, it is also excellent to discover a source of inspiration or assistance when you are stuck. Sharing knowledge becomes crucial in this situation. It is critical not only for teams and their members but also for the development of a unified workforce and successful business model.
This is the first interview in the Experts in spotlight series, with more to come. With people who have different job roles, expertise, and objectives.
With that said, let's dive into our first candidate's world of content creation and marketing strategies, as well as what it means to work in a company that manufactures dental equipment and dental consumables. Especially in a world where we rely so heavily on medical intervention. Let's get to know Laura Nicolae and what she does to stay on top of the game.
Introduce yourself and tell us about your current position and about the company you are working for.
I'm Laura Nicolae and I work as a Global Content Strategy Manager for a dental equipment manufacturer and dental consumables producer company, whose mission is to empower customers by creating innovative solutions for healthy smiles. The customers the company is selling to are in their vast majority dentists and the products that are being sold range from intraoral scanners or dental chairs to dental instruments and dental implants.
What's your backstory and how did you get where you are today?
I started working in digital marketing about ten years ago as a social media manager for a popular retail company in Romania. What I loved about this initial job was the fact that it allowed me to be creative with the social media strategy and to hear the voice of the customers I was in contact with on the company's social networks. Also, being able to see actual results, such as the company's official Facebook page growing to millions of followers, helped me feel like my work was paying off.
I've since then switched several positions and industries, going from online marketing execution in retail, where I focused on B2C, to online marketing strategy in the software industry, where I started to go more in-depth into the B2B market, focusing more on buyer journeys, web optimizations or A/B testing. I've continued working in the software industry as a digital marketing consultant (or customer success manager) for companies that had acquired software marketing solutions, helping them be successful in their marketing strategy.
Being fond of travelling, I was looking for a change of scenery during the pandemic when travelling was almost impossible, so I decided to accept a job offer in a different country – which led to me working as a global content strategy manager for the dental company that's my current employer.
Digital marketing has been a part of my life for a decade now and the reason I've thrived in this field is probably connected to the fact that it allows me to see the actual progress and results of my work – data and marketing go hand-in-hand and being able to measure success and see what works and what can be improved are one of the things I love most about it, together with all the amazing people I've met and worked with during the past years.
Have you learned anything particularly helpful or advantageous in marketing content strategy?
One of the most important things I learned over the years is the fact that the customers I address my message to are real people. In B2B we often refer to the customers as buyer personas and, once we define these buyer personas, we start developing content that we think they might be interested in. My mission in my current job is to change the focus from promotional messages that are heavily focused on the company and its products to the customers and their needs or struggles – for this I use data gathered from marketing campaigns, social listening, market research or even my regular dentist appointments.
As a content marketer, I think it's also very important to be able to see the bigger picture. Yes, I might be working on creating content for the web and I might have the perfect SEO strategy in place that will generate the web traffic I wanted – but how does this piece of content connect with all the other digital marketing channels? Will I use it as part of the weekly newsletter as well? Have I included it in the social posts or in the promotional activities? Am I working with key opinion leaders to get it out there? And once the customers see the new content, what's next? Having clearly defined goals, having the means to measure my efforts and making sure the customers are met where their needs are is also key to my content marketing success.
What platform/tools do you use in your daily marketing tasks?
For content strategy, I'm working with tools that help with keyword research, such as Google Search Console or Conductor. I love working with these tools because they enable me to see what the audience is searching for on search engines as opposed to what I think they might be searching for. Also, seeing what keywords they use to land on the website is an important insight to use for future content strategy.
Another tool that I find really useful would be Sprinklr – this is my go-to for social listening, to see conversations around the products or the services the company offers or to do competitive research.
As I said before, I love data, so I'm also heavily working with tools such as Adobe Analytics or Power BI to measure the performance of web content or marketing campaigns and act on the data.
What have been the most influential books, podcasts, or other resources? Tell us your favourite quote of all time!
One of my favourite influencers is Simon Sinek and I consider his Ted Talk on how great leaders inspire action a must-see. I also love one of his quotes that says "People don't buy what you do – they buy why you do it" because it switches the focus from selling the features and benefits of products to the company's mission and vision of what they hope to achieve with their business.
What are the projects/programs/initiatives you are currently working on?
Currently, I'm working on developing content for the first stage of the buyer journey, which is currently missing from the website – so my main priority is doing keyword research and working with copywriters and product managers to create well-researched pieces of content for the awareness phase. This helps improve the SEO strategy, generate website visits and gain new customers that were not aware of the company's solutions or even of the company itself.
Another company initiative is to eliminate silos. Big companies that have teams spread across different countries and even across different continents have the tendency to work in silos, which might lead to poor decision-making due to a lack of valuable information, a decline in customer experience and customer satisfaction and sometimes even lower employee morale – so I'm always sharing information about my projects with my colleagues and I'm trying to work closely with other departments, connecting as many dots as possible in the overall content strategy.
What is the best part of your job?
I love the fact that my current role is a global role, allowing me to work with teams that are spread across the world – I've worked with teams in Japan, in various European countries or in the US and they've all been and still are a source of inspiration and a growth opportunity for me.
Having worked in various roles as a digital marketer, I've always loved to learn new skills and I feel like there's still so much room to grow when it comes to content strategy that my time will be well invested for the following years.
I'm also blessed to be part of a great and supportive team that makes showing up to work every day a joy.
How do you maintain a work-life balance?
One of the things that I like to do is to discover something new on a regular basis (usually over the weekends) – whether it's a museum, a new park, a new hiking trail or a new book, I believe this helps me relax, get my mind off work but also boost my creativity once I need to work on a project the following week.
I also love having routines, such as drinking tea in the evening and reading a book or cooking a wholesome dinner.
Getting some fresh air every day is also very important for my well-being, so taking walks after work helps me disconnect and improve my mood.
What is the best advice someone ever gave you?
Another influencer I follow is Mel Robbins and I loved this piece of advice she wrote on her social channels:
"No one's coming to push you. No one's coming to tell you to turn the TV off. No one's coming to tell you to get out the door and exercise. Nobody is coming to tell you to apply for that job that you always dreamed about. No one's coming to write the business plan for you. You got to parent yourself. You have to push yourself."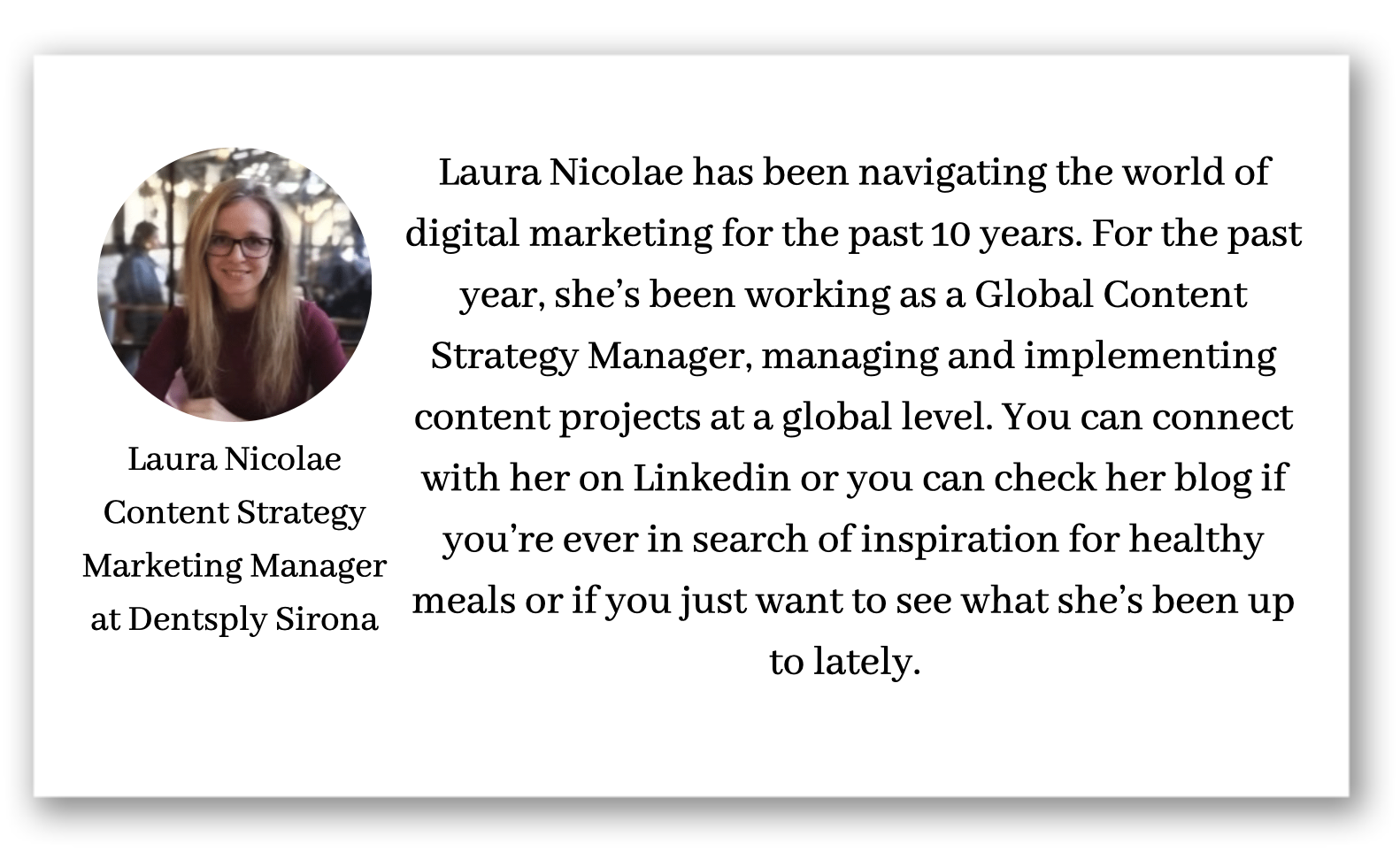 Laura's cooking blog is available here.
FeedCheck is a tool that helps brands to listen to their customers.