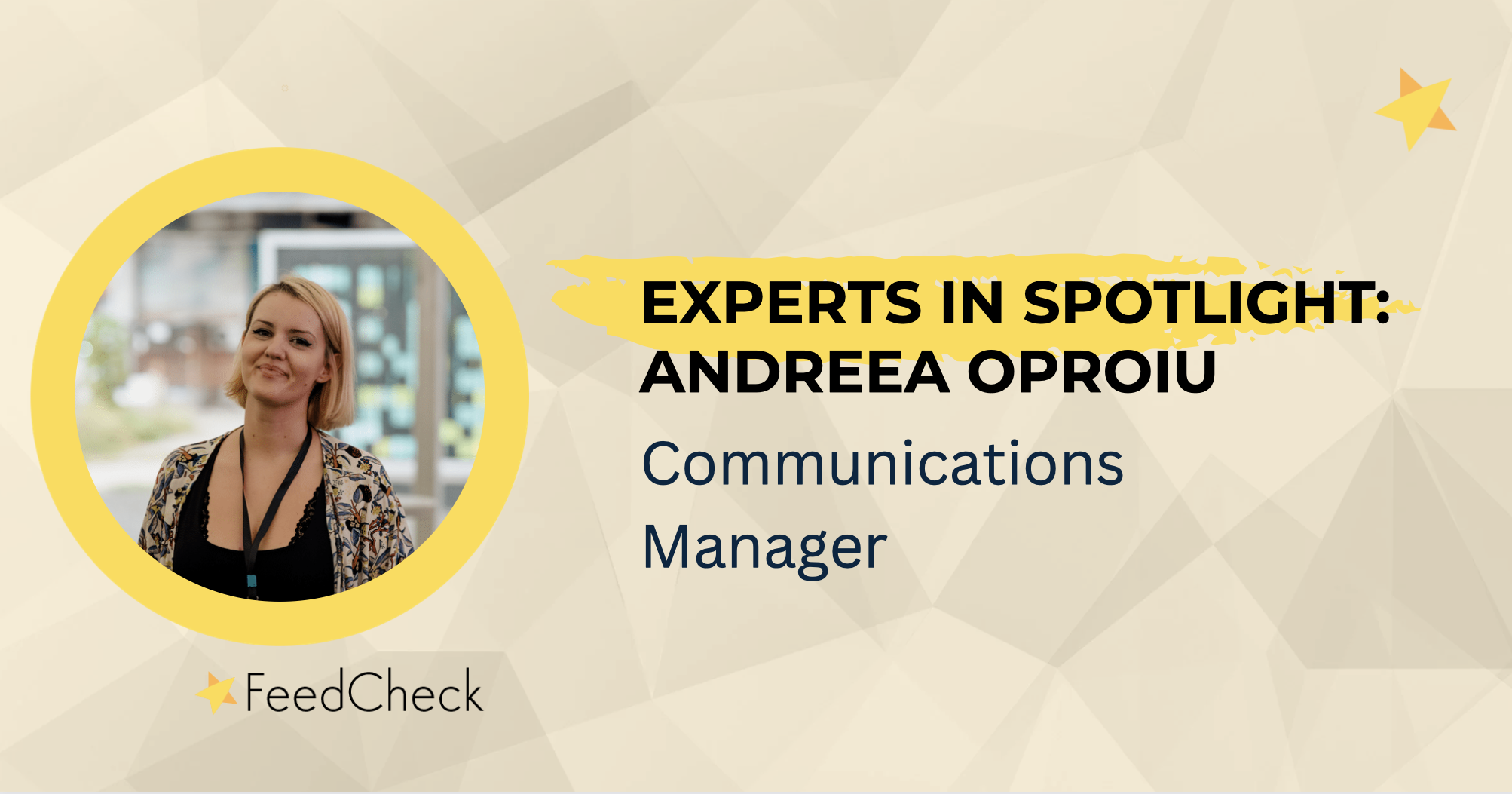 This journey has been so much fun so far! seeing so many people wanting to impart their knowledge, expertise, and tips. More business professionals are coming out to express their gratitude to us.
Let's go on to our next invitee, a communication manager at one of Eastern Europe's premier conferences on startups and innovation. Finding out what it takes to work for a company like this and how Andreea Oproiu is handling her job position will help us understand how difficult it was to reach this status.
Introduce yourself and tell us about your current position and about the company you are working for.
Hi there, I'm Andreea and I'm the Communications Manager for How to Web, the leading startup and innovation conference in Eastern Europe. Our main goal is to connect bright minds with the possibilities of tomorrow, and we do this not only through our conference but through other initiatives as well — such as community events, exclusive courses or simply connecting the dots in the industry when we see the chance.
What's your backstory and how did you get where you are today?
I'm not one of those lucky ones that have known from the start what they want to do in this life, so I've had to identify my core abilities through trial and error — an exercise that has turned out to be pretty helpful, now that I work in marketing, and more specifically, in tech.
My initial plans included medicine or foreign languages, but I didn't really find my place until I started studying communication & PR. This speciality is a pretty easy one to learn at college and especially in Romania where it isn't that much appreciated and therefore developed, but this aspect only acted in my favour. I was a 20something who wanted to experience more of this industry, so I turned to volunteering and internships, as the school didn't feed me enough knowledge. Little did I know back then, that my first internship (in event marketing) will set the track for my career and that I'll fall in love with the energy of events even when I was carrying furniture at conferences as a volunteer. Fast-forward to today, I have organized or marketed meetups, music festivals, and local or regional conferences, and my main focus is still on how to build better events and bring more like-minded people together.
Have you learned anything particularly helpful or advantageous?
I think learning should never stop if you want to grow as a professional, so I try to practice what I preach. My main takeaway here is to take chances and learn along the way. Even though I constantly study and take different courses in my domain, the only main driver to learn how to do/master something is to have a project to apply that to. And when that project has deadlines and expectations — put on your seatbelt, because it gets intense!
Communication/marketing-wise: my biggest lesson learned is that you have to put all your efforts into understanding your audience and speaking their language.
What platform/tools do you use in your daily marketing & communication tasks?
Does any team function without the holy Google Drive or Slack? These two have been indispensable in my career since I started working — the first one for centralizing all the documents and the latter for team communication & syncs.
Another tool I use and I'm very fond of is Trello. If you think more visually and colour codes help make your work more pleasurable as they do to mine, then you should give it a try. It's very good at keeping track of tasks, having a complete overview of projects, and keeping your team on the same page.
Also, Notion is another great tool to use. I think you can merge all the previous ones into Notion, but I haven't figured out how to use all its features yet. I'm using it for my own personal use at the moment, as it has next-level to-do lists and you can even make your own landing pages in it. 😱
What have been the most influential books, podcasts, or other resources? Tell us your favourite quote of all time!
Seth's Godin "This is marketing" and "Hooked" by Nir Eyal are two of my go-to books for understanding user behaviour and marketing overall in this digital era. Also, Neil Patel's blog or the Dense Discovery newsletter are two resources that I keep up with weekly, for inspiration and up-to-date information.
As for the quote, only a classic like George Orwell could move me with a perception to remember:
"Aesthetic enthusiasm. Perception of beauty in the external world, or, on the other hand, in words and their right arrangement. Pleasure in the impact of one sound on another, in the firmness of good prose or the rhythm of a good story. Desire to share an experience that one feels is valuable and ought not to be missed. The aesthetic motive is very feeble in a lot of writers, but even a pamphleteer or a writer of textbooks will have pet words and phrases which appeal to him for non-utilitarian reasons; or he may feel strongly about typography, the width of margins, etc. Above the level of a railway guide, no book is quite free from aesthetic consideration."
What are your goals for the next projects, programs, initiatives etc.?
One of the underlining aspects of marketing and communications is that you always have to adapt to new ways of audience behaviour, depending on our societal developments or changes.
With this in mind, my main goal is to adapt to whatever the following period may bring and to also make the most out of human-interaction thirst and bring more attendees to our conference.
What is the best part of your job?
I get bored easily and wouldn't resist a job where I would have to do the same thing daily. The best part of my job is that I get to wear many hats 🎩 on a weekly basis and mix a variety of skills to get things done.
Today I may be a journalist, tomorrow a marketer and the next day an art director. I get to mix the psychology of understanding people's behaviour with the creativity of identifying digital trends and the accuracy of summing up numbers until we reach our KPIs.
Quite fun, you should try it!
How do you maintain a work-life balance?
Working in the events industry is something that I consciously signed up for and there are periods of time when I can't really achieve a work-life balance due to the urgency of everything. So heads up here — it's a really satisfying job at the end of the day, but it can get quite intense.
But for the other periods of time, when I can get a grip on my personal life as well, my main recipe is maintaining a schedule. This may sound very dull, but trust me, I've learned the hard way that discipline is actually the key to balance and even freedom.
Keeping a schedule for my meals, dedicating time before and after work to personal hobbies, and most importantly spending quality time with friends and family, keep me recharged and fulfilled. It's actually the little things. Do more of them and it will be OK.
What is the best advice someone ever gave you?
I'm a big believer in taking chances and risks, so my favourite quote is quite simple:
"You miss 100% of the shots you don't take." -Wayne Gretzky