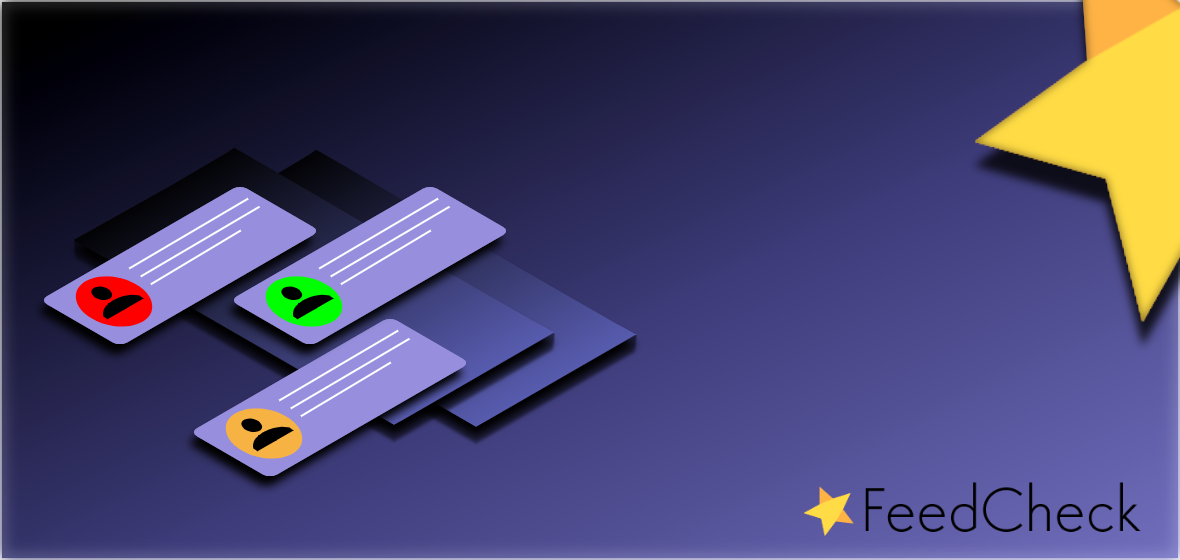 Our customers have been asking us lately whether it's possible to monitor product ratings that do not have reviews on Amazon marketplaces.

Yes, those Single Ratings with no feedback attached that make you curious about customers' untold stories and wonder:

Did your product exceed your customers' expectations in a way that no words could have expressed their satisfaction better than star ratings alone?
Or they profoundly disliked it that even one single written word would have been a waste of their time after an already bad experience?
These Star Ratings without reviews impact the Product Ratings and the Product Average Rank listed under the product title and their crucial role: that of helping new shoppers evaluate a product's worthiness of their interest in a second before reading further any product reviews.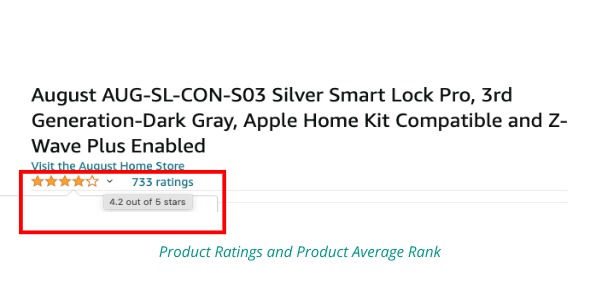 Taking action based on ratings alone and without context is impossible.
While shoppers use your product ratings as a first-hand filter to decide their journey's next micro-steps – click to read your product reviews or to search a competitor product – brands and product owners need more data to identify actionable steps towards improving their product ratings.
Let's find out what these ratings mean and how they mask the real issues that customers share about your products.
1. Ratings or… Global Ratings? | What they mean and what's behind them?
These Product Ratings refer to the Total Number of Global Ratings with and without reviews across all Amazon marketplaces.
If you click on it, you'll get to the Product Reviews Page where more information is revealed to you.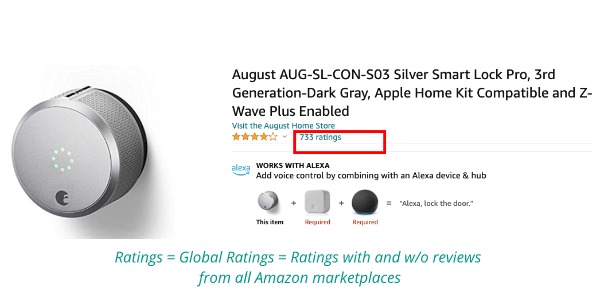 ______________________________________________

As you can see, there is a difference between Global Ratings and Global Reviews. Many people take these two numbers as being equal and having the same meaning but they don't.
So, in many cases, if your products appear on multiple marketplaces, you, as a brand manager or product owner, will see the ratings and reviews from everywhere, not only your market.
Out of all Global Ratings, Amazon details only the ratings with reviews.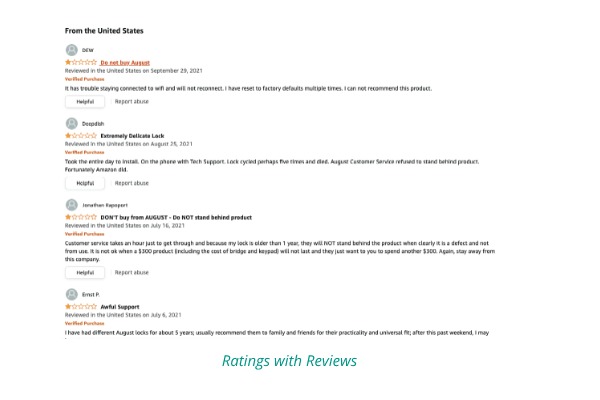 Ratings without reviews are not listed nor shown to consumers other than an integral part of the Global Ratings. However, they have a significant impact on them:
they increase their Volume
they impact the Average Product Rank – in a positive way in the majority of cases.
2. Ratings without reviews and their impact on the Total Global Ratings and Average Rank
The portion of ratings without reviews is usually positive: they are mostly 4-star and 5-star ratings!

How can one measure that?

If you use a product rating & review aggregation tool like FeedCheck, you can right away identify the accurate numbers in your marketplace:
the Volume of all ratings without reviews
the Average Review Rank of all reviews of your product.
These indicators are not visible on Amazon without a tool that aggregates all product reviews and ratings and makes the calculus for you. Thus, you get access to the reality behind these numbers and understand the actual feedback of your customers that contributes to the Average Rank fluctuation.
Let's dive in more and see what do we find!
For the above product, FeedCheck shows an Average Review Rank of 4.11 versus 4.2, the Amazon review rank displayed under the product title.
So, the difference of 0.01 rank units accounts for the 224 Global Ratings without reviews, representing approx 30.5% of the Total Global Ratings.
3. How to analyze the data and identify actions to increase your product review rank
You can increase your product's Average Rank in two ways:
getting more positive ratings without reviews
identifying the sources of the negative reviews, and work on addressing them.
The above 224 Global Ratings without reviews help the Product's Average Rank increase by 0.01 units. That shows they have a small impact in this example. So, they are less influencing than the Ratings with Reviews that are almost double in number!
The ratings without reviews do not tell you much other than they were left by mainly satisfied customers not interested in detailing their experiences with your product. So, the best thing you can do is analyze your ratings with reviews and reviews alone and discover your customers' sentiment for different aspects of your products that led to negative ratings.
Thus, you can identify which aspects of your products could be easier and faster approached and fixed.
For the product above exemplified, if we look into the 1-4 star reviews, we see a negative customer sentiment for the "Support" topic.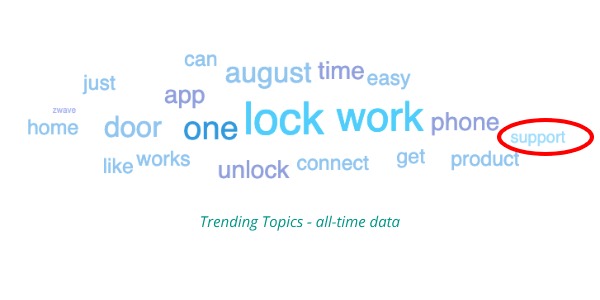 That is an obvious hint that you need to investigate the sources of customer dissatisfaction behind your Support Services and how they change over time.
With FeedCheck, we can see the following:
customer sentiment for the Support topic referred to in reviews has been very low from the beginning until now
the sentiment has been measured quarterly and shows slightly negative or neutral (zero) values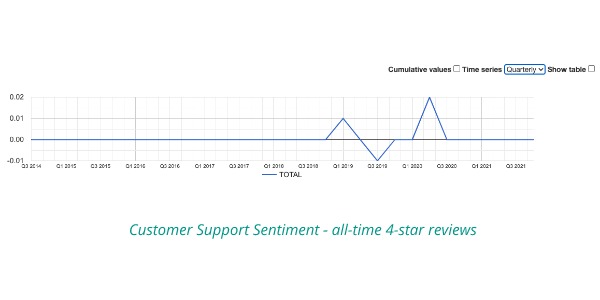 The rating trend of the reviews where Support was the main topic also shows a low score – reviews are oscillating between 1 and 3 stars which is on the negative side of any score-rating.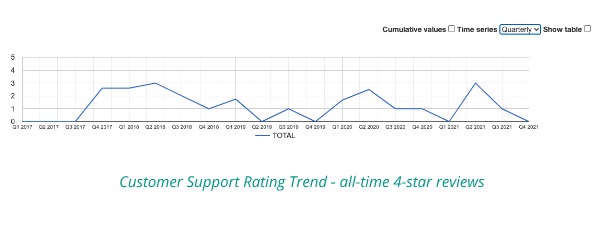 The Average Review Rank has reached its maximum of 2.69 in Q2 2018 and has been decreasing since to 2.03 at the end of Q3 2021. Therefore, over the past 3 years, the product lost over 0.5 stars in its Average Review Rank from an already low level.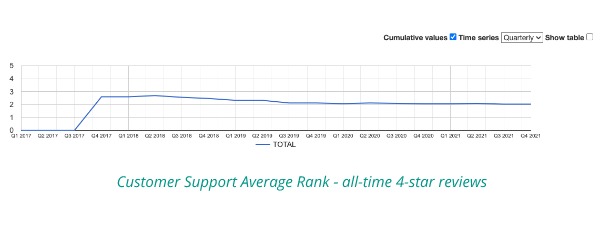 Although the volume of reviews referring to the Support topic (37 reviews) is below 10% of the total reviews (509), the above analysis shows how even a small number of reviews can negatively impact a product's Average Rank and keep it under healthy levels.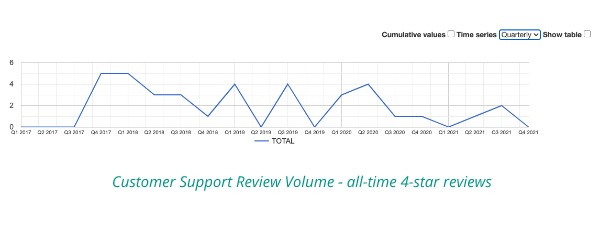 All the above data is strongly supported by customers' explicit complaints that we have captured from all-time 4-star reviews: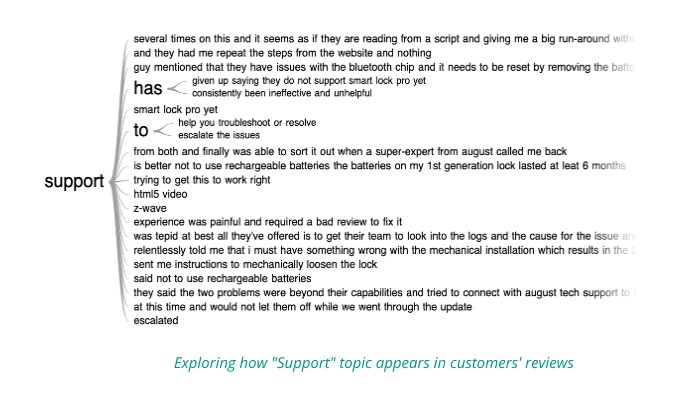 Getting to know the dissatisfaction sources that make your customers unhappy and poorly rate your products is the first right, healthy step towards improving your product's average rank over time.
Do not wait for your products and brand's image to deteriorate until it becomes difficult to repair it and your competitors to take advantage of that.
Just like one of the above reviewers said:
"…the product gets docked a star because the support experience was painful and required a bad review to fix it".

A product reviewer
With the right tools and processes in place, your team can make faster steps towards actionable insights before it is too late and such reviews become the norm.